European MSc in Health and Physical Activity
- Admission 2022-2023 -
In compliance with the current international legislation on privacy, the list of admitted candidates is published anonymously using the pre-registration number (Application ID) as a unique reference. This number can be viewed in the Application / Receipt for participation to the admission test released by the electronic system before signing and final submission (as in the provided example) printable from the reserved area (login, secretary / admission test, select the competition to which you are registered in the competition list and scrolling the page, at the bottom, click on print admission.
Enrollment procedure available online from 14/09/2022 at 12:00 p.m., by and not later than 21/09/2022 at 12.00 p.m. (Central European Summer Time). Detailed informatin at http://www.uniroma4.it/?q=node/7306
---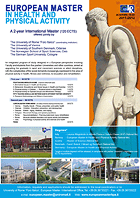 ENROLMENT: Due to pending decision by the University Senate, the enrolment procedure is not available, yet. Relevant notice will be published by the student office at http://www.uniroma4.it/?q=taxonomy/term/88. This will not affect the compliance with the program schedule and the starting of teaching activities, as announced and detailed in "Programmes and Curriculum structure 2022 – 2023". At present, the access to the online learning resources and distance face-to-face classes is guaranteed to all admitted students, irrespective from their enrolment status.
In compliance with specific directions from the governments of partner countries towards social distancing, as well as national and international mobility, lessons will be available by telematic modality, postponing practical teaching and curricular internships, also with ad hoc courses, so to guarantee the fulfilment of the study program curriculum.